RECIPES: A Smallbone Sourdough using the Ledbury Studio Wolf Oven
by Holly Smallbone
We are excited to be starting a new recipes instalment of our blog. Our first recipe is:
A Smallbone Sourdough using the Ledbury Studio Wolf Oven, by Sue Smallbone
I base my sourdough on a Vanessa Kimbell recipe and technique.
Ingredients: 
325 g of water
100 g sourdough starter (1:1)
500 g flour – At the moment I am using 300 g of strong white bread flour, 175 g of Wessex Mill Cobber Bread Flour and 25 g of Shipton Mill Stoneground wholemeal flour.
8-10 g of salt
Let's start!
Feed the 100g of sourdough starter with 50g of rye flour and just over 50 g of warm water.
You must now leave the starter to get active and at least double in size. This normally takes 2-3 hours depending on temperature of the room.
Measure out water and if the starter floats when added, then you know it is active enough to make a good rise.
Mix all the ingredients together and leave for 1 hour and a half, before you do the first lift, stretch and fold. To do this, lift and fold your dough and do a quarter turn, then repeat 3 times.
Leave for 30 mins do a 2nd lift and fold as above
Repeat after 30 mins, then repeat again after another 30 mins.
I usually do 4 more lift and folds in the last hour, 15 minutes apart.
Once you have completed your lift and folds, shape the dough lightly, place in Banneton, cover with plastic or a damp tea towel to prove for a 50% rise which should take between 1-2 hours. Then put in the fridge until the next morning
The beauty of this process of lifting, folding the bread and repeating 8 times is, you can adjust the time intervals to suit your day. Sometimes if I am short of time I do the lift and fold process every 15 minutes.
Now, with a normal oven I would:
Pre heat oven to 250c, reduce the temp to 220c and bake for 30-35 mins in a casserole with the lid on. Then take off the lid and reduce temp to 180c, spray with water and bake for another 15 mins.
However, I used Wolf's Built in M series Contemporary Black Glass Single Oven. Wolf ovens can reach a higher temperature, than most ovens. I put the temperature up to 275c, applied the bake setting, and was able to reduce the cooking time to 20 mins!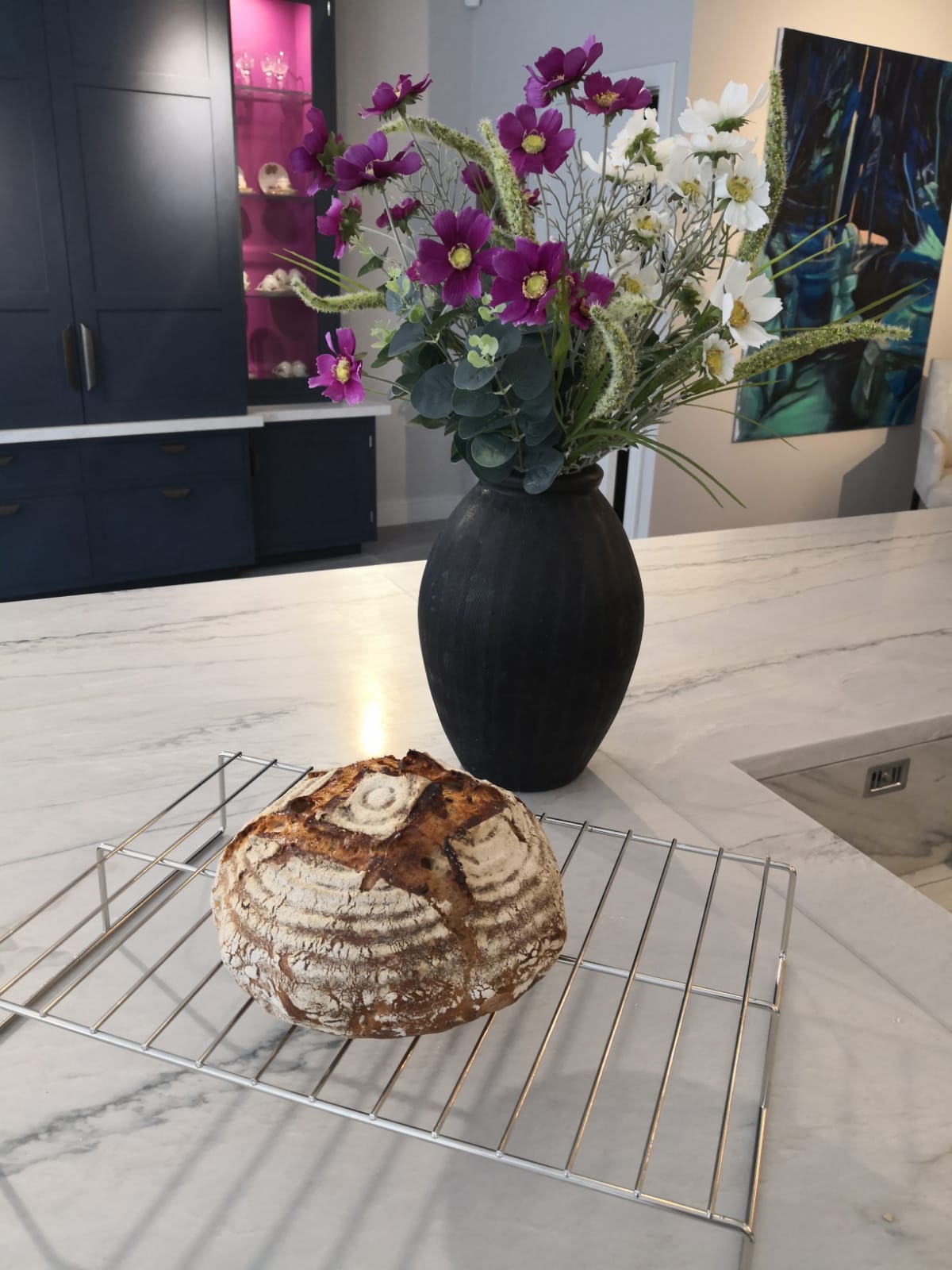 And voila!!
Our showroom has now reopened!
Thank you for bearing with us whilst our showroom was closed due to COVID-19. As of 15th June our Notting Hill showroom will be open.