What Goes Into A Ledbury Studio Kitchen?
What goes into a Ledbury Studio kitchen?
We thought we'd write a blog on the process, from design to installation.
First, we set out to be different.
Now we know this may sound like a bit of a cliché, but to be honest this is most probably the reason why you found us in the first place.
If you saw one of our advertisements, and you have now been to our website and/or requested a brochure, we would guess that you may be interested due the unusual and different materials we include in our designs, or our style of design.
We set out to stand out in the crowd.
We are proud of our designs, and also of the way our process has developed with our clients- we always want our client to be excited that they are purchasing a one of a kind kitchen, and are enjoying the most personal experience through the full duration of our process- from initial design to install completion.
Our philosophy is to keep things fresh, to focus on innovation wherever this is possible, and relevant- so we don't just try to do new things because we can, but rather we want to do them because they work and because they will make a difference to the design.   
To begin, you might have visited our website or Instagram or maybe you've requested a brochure, this is a great start.
We always recommend visiting our Notting Hill showroom, open Monday – Saturday, here you will see our beautiful ranges in the flesh; The Metallics Collection with copper, zinc and pewter fascia's, or our more traditional option, The Ledbury Shaker Collection. This also enables you to meet us, and to decide if you like what we are saying!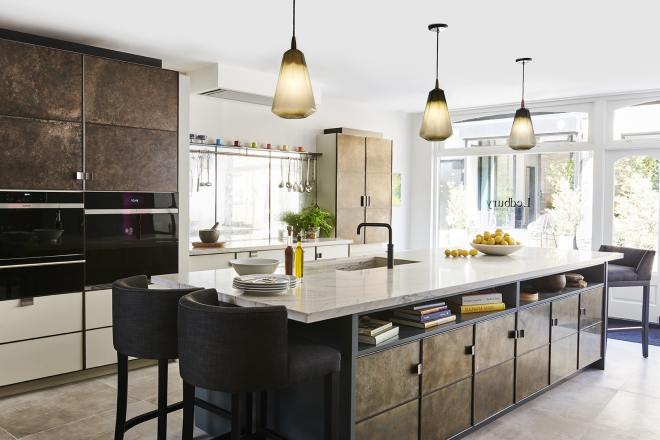 We welcome your own ideas, as we offer a completely bespoke service- it is our firm belief that the best kitchen evolves via a design process which is every bit as much about your ideas and interests as it is about our design expertise and the materials we use.
 For example, the pewter fascia in our Cheshire Kitchen came about when our client came to us with an extensive collection of pewter samples, which they were keen to incorporate into the body of their kitchen. These samples were a great initial reference that led Charlie to his much loved pewter hip flask, given to him on a skiing holiday in 1980 by Graham Clark- who co-founded Smallbone of Devizes with Charlie. This hip flask provided the perfect reference for our new kitchen finish.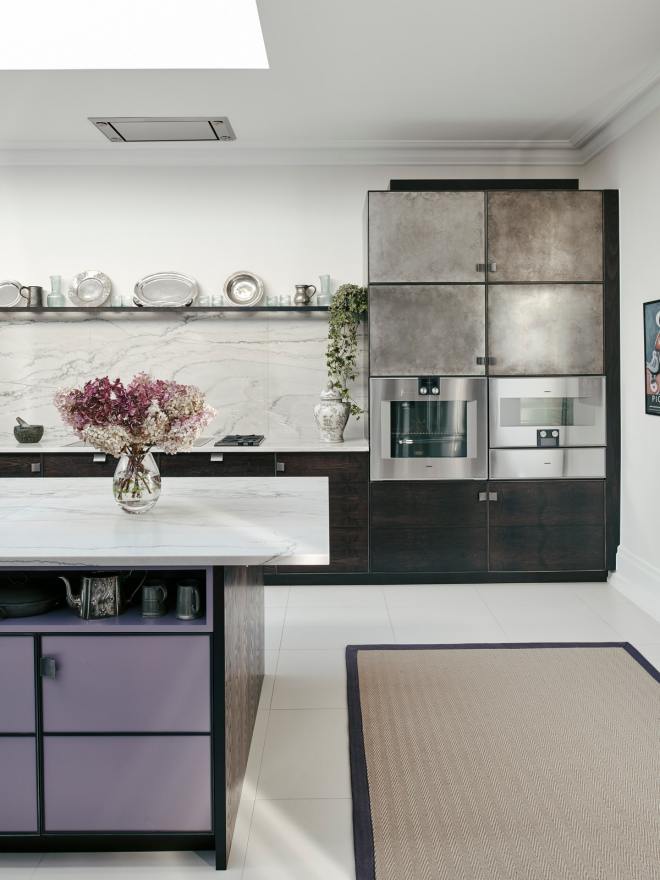 We also ask for your architectural plans, if you have them – dimensions etc,- if you do not have them don't worry-then we will do a site visit so we can measure your proposed space, and we can then discuss further how to get the most from the kitchen layout.
 At this point we are able to start putting a conceptual layout together- we do hand sketches, and initial 3D spatial modelling, to share with you and which will give you a pretty clear idea of what we are proposing, including an initial material selection, based on what we have already talked about.  At the same time we will give you an initial estimate of cost (furniture, appliances, delivery & installation). If you already have an idea of the appliances you'd like to use, we will ask you to let us know at this point, so we can work it into the estimate.
If the initial quote is not in your budget, don't worry, there are plenty of ways to work on costs, for example, if you originally liked our pewter fascia, a beautiful but more expensive material, you could go for our zinc instead, another beautiful material, with a slightly lower price tag.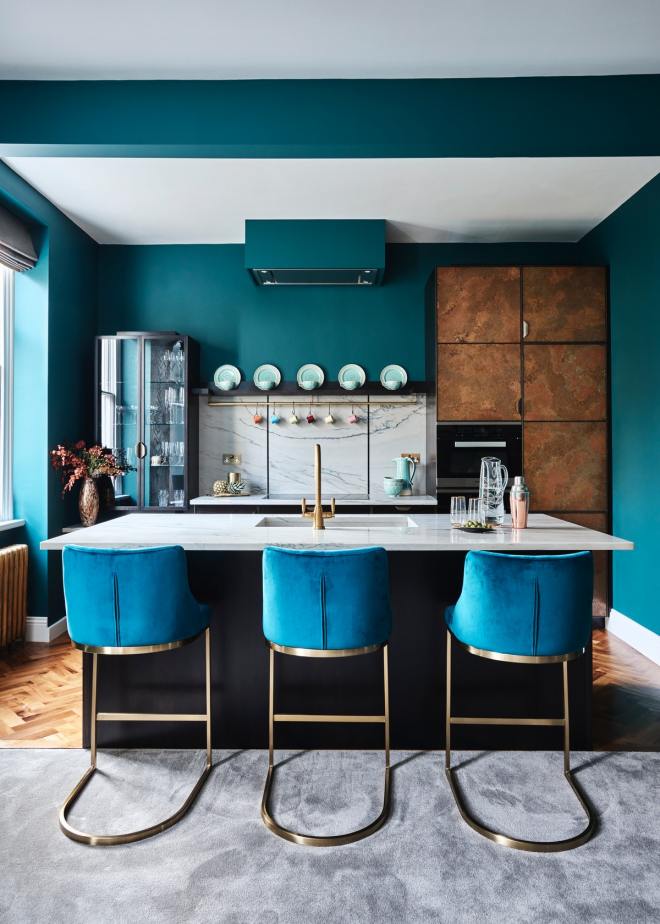 Once we have worked on the budget and quote and come to an agreement there, we then go forward with floor plans and elevations and a formal estimate. At this point we love to involve mood boards, this helps us to see which worktop surface choice works with which fascia, handles, taps, etc. - it paints a pretty picture of what's to come!
To then move forward with 3D rendors, we need a 10% deposit. To be honest in many cases we never get to do renders, as the client will feel they already have a sufficiently accurate grasp of how the kitchen will look and work. But those who do want to see the renders, they give an incredibly accurate portrayal of what your kitchen will look like. Once these renders have been signed off we then ask for the deposit to be made up to 50 %, for the kitchen to go into production, and we produce a very detailed Design Sign Off specification and quotation document detailing all costs you are incurring.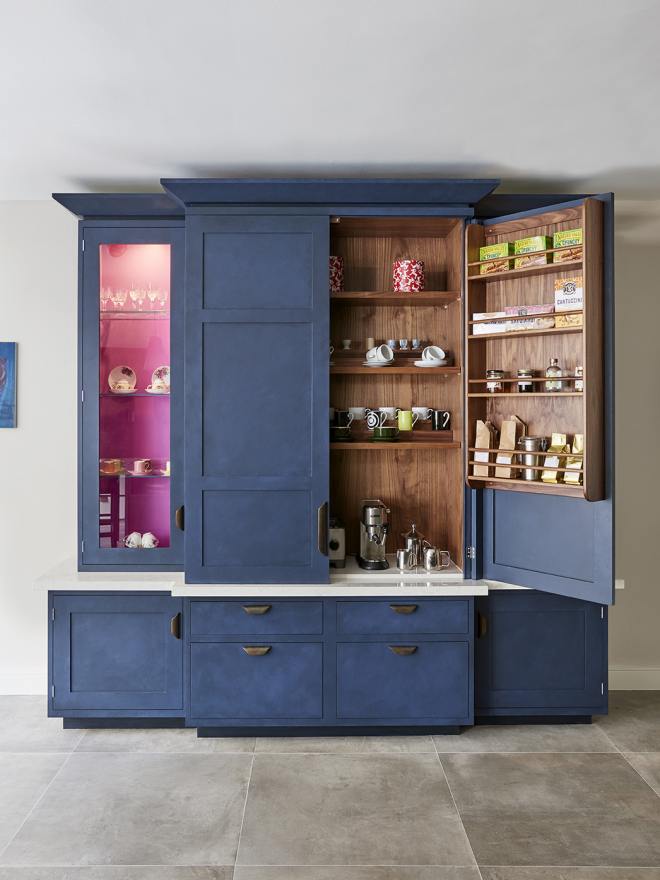 Our kitchens are then produced in our Wiltshire workshop, to be found at Edington just a mile or so from the White Horse at Westbury. Here we have a small team of extremely talented artisans who build all our furniture, and who have worked with us from our Smallbone and Mark Wilkinson days. For the specialist copper and zinc panels, these go to the Stephanie in Leicestershire. If you've chosen our new choppy water panel, this goes to George in his Wiltshire workshop a few miles away from our main workshop; and the pewter panels to Quentin in West Norwood, south London. Our Verre Eglimise is designed and fabricated by Emma in Lancashire, who has worked with us for many years.
Two weeks before delivery we ask for the full payment. Once we have completed production, delivery and installation takes place by our trusted team of kitchen installers, who have worked with me for over 20 years.
And there you have it! Your new Ledbury Studio kitchen..
Our showroom has now reopened!
Thank you for bearing with us whilst our showroom was closed due to COVID-19. As of 15th June our Notting Hill showroom will be open.